XtremeMark
Description
In some situations it can be useful, even just out for mere curiosity, to know more about your computer's performance and more precisely how fast it is: to this end it is necessary to run a specific type of software known as a "benchmark". XtremeMark is a software of this kind and it will test the speed of your PC and in particular that of your CPU (Central Processing Unit) by timing the execution of a large amount of calculations.
XtremeMark can put both older and newer CPUs to the test; it supports 32/64bit processors, multicore and multi-thread (max 16 cores or parallel threads) machines. The strong point of XtremeMark is in its wide range of customization options: you can set how many threads to use for the test, how many calculations to carry out (from 10 million to 100 billion) and the priority level for calculations. Once a test has been performed, XtremeMark compiles a report which contains precise information about your system and test results; the report is also exportable as TXT or RTF format files, thus it'll be easier to save it or share it on the internet with friends or technical support.
XtremeMark can be easily updated online and is available both in English and Italian.
Notes
The results may slightly vary depending on the status of your system. For the best results be sure that every unnecessary application is closed, that there are no video or audio playback active, that there are no application using the internet connection, that there are no file being transferred or copied and that the operating system or any other application (like an antivirus software) is updating or scanning the system.
New in version 5.6.2:
Compatibility update.
Minor tweaks.
New in version 5.6.1:
Minor tweaks and bug fixes.
New in version 5.6:
Added support for Windows 10;
Replaced the "Simple report" with detailed information about your system;
Updated the report with new and relevant information about your Operating System, CPU and RAM;
Improved support for Windows 8 and 8.1;
Improved the user interface (UI);
Bug fixes.
Awards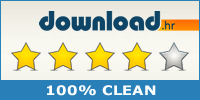 Downloads

Self-installing package (.EXE - 827KB)
MD5 Checksum: a41fe64918d26e27dd95a57c706f0931

Stand-alone compressed archive (.ZIP - 216KB)
MD5 Checksum: 5367e0ded83317e711a7b54fa8986e96